Lots of tarpon have showed up right on time and with them come hungry sharks.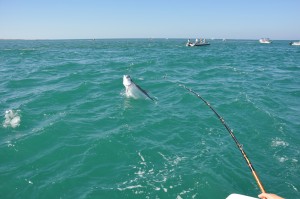 Anglers tarpon fishing at the Skyway bridge out to Egmont Key are having a hard time getting a whole tarpon to the boat for pictures and release because packs of hungry bull sharks are eating on them. A few big hammerheads are also around.
Sting rays, whole bonita, jacks, ladyfish are prime shark bait. A minimum of 50 lb. braided line up to 200 lb. is best used for these beasts. A 6/0 to 12/0 rod and reel set up will hold enough line to do the job and heavy steel leaders with forged hooks should finish out the business end of the rig.
For land based shark anglers the Skyway fishing piers are good places to fish. The best sharking is at night although smaller sharks in the 2-3 foot range are being caught during the day.
Some kingfish are still here. Try the Egmont ship channel from markers 7-8 out to the sea buoy. Bait can be jiggled up around the markers using a sabiki rig.
Anglers drifting the Culbreath and Hula Bay flats are catching good trout on live bait and artificials. Some reds are around Port Tampa and snook are biting in the 4th Street area on live bait.
Mangrove snapper are really tearing it up around Tampa Bay. Find structure like bridges, docks and sea walls with rip rap for best action. Use white bait or fresh shrimp for bait. The snapper seem much bigger than last year at this time.
Oops, something went wrong.