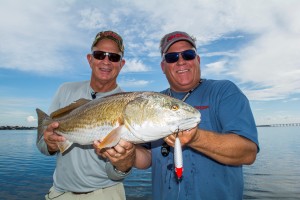 Fishing reports before this weeks cold weather had a spring type look to them.
White bait was available at the Ft. Desoto Piers and the south Skyway fishing piers for cast netting anglers. The best times to get bait was in the dark throwing under the pier lights. After sun up bait could still be caught but it got a little harder to find.
Spanish mackerel made a nice appearance at the Skyway fishing piers and quite a few big o…nes were caught using deep fished spoons and Gotcha plugs. Pompano were also being caught by anglers vertical jigging by the pilings. A pompano jig with a teaser fly attached is the best way to hook up.
Redfish and snook have started moving out from the canals and creeks and Capt. Billy Miller had a few big days using live shrimp. A cork with live shrimp will give extra casting distance and keep the shrimp out of the grass.
Power plant warm water runoffs will be good fishing places with the projected cold temperatures. All varieties of fish go there to get warm so be prepared with different live and artificial baits.
The Strawberry Festival has always been my "get ready for spring" bench mark. After the festival the weather seems to get more stable and warmer which brings on the good spring fishing.
Oops, something went wrong.