Bill's Book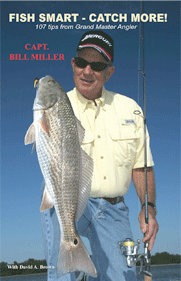 FISH LIKE A GRAND MASTER ANGLER
From inshore live baiting, to offshore tactics, Capt. Bill provides clear instruction on the mechanics and strategies of successful fishing. Straightforward and easily-applied, these nuggets of angling wisdom will guide readers to a better understanding of this great sport.
"My objective for this book is to help anglers of any skill level maximize their time on the water by explaining some of the concepts and strategies that influence performance," Capt. Bill said. "Fishing is not an esoteric pursuit that only highly-skilled experts can enjoy. This is really something that anyone can do. You just have to know how to Fish Smart!"
Tips include
– Finding fish in shallow or deep water
– Catching, holding and rigging live baitfish
– Seasonal adjustments for hot and cold weather
– Handling and releasing fish at boatside
– Fishing tackle care and management.
Are you ready to Catch More?
From inshore live baiting, to offshore tactics, Capt. Bill provides clear instruction on the mechanics and strategies of successful fishing. Buy it for $14.95 + $5.00 per book shipping and handling (tax included – ships to continental U.S. only)