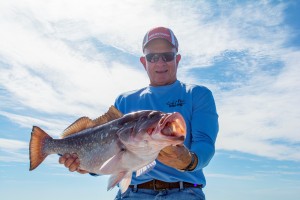 In between the cold fronts Don Mastry and friends racked up the snapper and grouper in 85 feet south west of Egmont Key. Big mangrove, yellow tail and lane snapper all made it into the fish box along with some fire truck red grouper. Big gag grouper were also very hungry but they were released as per the regulations.
   Mastry went through ten dozen shrimp, a box a squid and a box of Spanish sardines. A long section of 25 pound flouro carbon leader rigged knocker style was the hot set up.
   Capt. Billy Miller made the most of the cold windy days fishing canals in the John's Pass area. Skipping a live shrimp on a 1/8 ounce jig head way back under the docks produced big speckled trout, redfish, flounder and some giant sheepshead.
   The Costa Rican sailfish season is in full swing. Billy Caldwell and Mark Wray were in Los Suenos fishing with Capt. Bob Burnside on the Pescadora and released 67 sailfish in three days of fishing. Fresh frozen, rigged ballyhoo was the bait of choice.
   All of the area power plants were hot spots during the coldest days. Pompano, trout, cobia, sharks, jacks and more love the warm water. Be versatile and try jigs, fresh shrimp and cut bait to see what is working.
Oops, something went wrong.