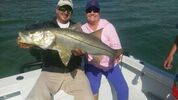 Snook fishing is on fire all over the Tampa Bay area.
Capt. Billy Miller and his parties have been catching tons of snook including one monster that weighed 22 pounds and was released. All of these fish were caught on the flats using light tackle and live scaled sardines. The hot areas include Weedon  Island, the 4th. Street holes and John's Pass.
There are some more scattered kingfish showing up but the main bunch appears to be south of us. Reports from spotter planes indicate the big schools of migrating bait was off Ft. Myers this week. Where the main bait is located is where the main kingfish are. The cold front and high winds could easily move the bait off our coast this upcoming week.
King mackerel have very sharp teeth so the best way to rig when live baiting is to use a small piece of wire attached to the hook preventing cut offs. Long shank hooks tied to heavy mono leaders will work but you will lose lots of fish
I like to use 20 pound mono on conventional or spinning tackle. Using a small black swivel as a connector to the mono I wrap, with a haywire twist, a 24 inch piece of #4 coffee colored stainless wire connected to a 2/0 hook. All live baits are hooked through the nose for proper natural presentation.
Fishing in the Homosassa area is very good reports Capt. William Toney. Toney fished Cody Warren and his fraternity brothers last week and crushed the big gator trout. Along with the big trout several big snook were landed and many others hooked. Some tarpon were also spotted rolling in the river
Oops, something went wrong.