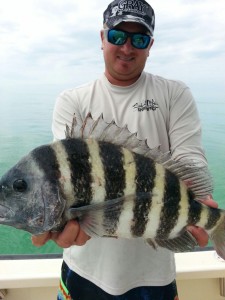 Sheepshead fishing is in its prime time in and around Tampa Bay right now. Prime habitat for sheepshead are artificial reefs, bridges and docks.
Prime baits for sheeps are fresh shrimp, sand fleas, barnicles and fiddler crabs. Shrimp, and sometimes fiddler crabs, can be bought at bait shops so those are the easiest to use.
When fishing artificial reefs or bridges anchor over, or very close, to the structure and fish with the lightest weight to keep you on the bottom, a 3 foot 20 pound fluorocarbon leader and a small hook like a 1/0 or #2.
When fishing around bridges scrape some of the barnicles off the pilings with a spade hoe to help chum the sheepshead into a feeding mode.
Residential docks with good water under them hold sheepshead in the winter. Anchor away from the dock and cast back to the pilings. Chumming the dock with small pieces of cut shrimp will increase your bites. If you don't have any bites after fishing a dock for 5 or 10 minutes move along until you find a dock holding fish. You might also be surprised with some redfish.
The Skyway fishing piers are loaded with sheepshead now. Use shrimp on bottom by the pilings. Silver trout are also thick off the deeper ends. Try bouncing tandem jigs along the bottom for them.
Capt. Billy Miller has been having his way with pompano recently. Drifting Passa Grille Pass and nearby sand bar edges, Miller has been catching limits and letting more go. A yellow and white pompano jig with a pink teaser fly has been the hot lure.
#mercurymarine #convictfish #maraudermarine #saltlifeoptics #pompanofishing #ohero
Oops, something went wrong.