Winter is a good time for silver trout. A smaller cousin to the speckled trout, silvers gather up in big numbers in deep water as the water temperatures drop.
Popular gathering spots around Tampa Bay are the Gandy boat ramp channel by the big for sale sign, the channel bend going into the Weedon Island power plant, the Port Manatee channel, just out from the Williams Park boat ramp on the Alafia river and in 10-12 feet of water northwest of the Redington Pier.
Look on your fish finder for marks that look like bait fish. That usually will be silver trout around small bait. Dipping and diving birds will also indicate small bait schools and the silvers around them.
Soft plastic jigs are good baits. I sometimes use soft plastic tandem rigs and frequently catch silver trout two at a time. Big sabiki rigs like #14 or 16's, vertically jigged, will also result in multiple hook ups. A small piece of shrimp fished on a jig head or a knocker rig will also produce fast action. The key is to be on the bottom.
Capt. Billy Miller has been having pretty good action in the Ft. Desoto area on speckled trout and redfish. Good action areas include the maintenance hole and the hospital hole. Jigs have been getting speckled trout and cut ladyfish is best for the reds.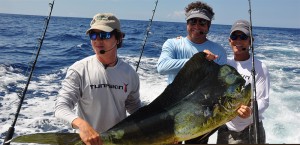 The sailfish bite is off the charts for the second year in a row at Los Suenos Costa Rica. Bill Caldwell and his team, fishing with Capt. Bob Burnside on the Pescadora caught and released 146 Pacific sailfish in 5 days of fishing.
Oops, something went wrong.