On windy days residential canals and rivers are the places to be. They offer protection from the wind and the water temperature is usually a little warmer.
If you can find and catch white bait that works fine, however in the winter the whitebait sometimes becomes scarce. In that case go to the old standby, live shrimp.
Live shrimp can be fished under a clicking cork, suspending it in the water column or down on the bottom with a jig head or knocker rig. I will try both to see if the fish are feeding in one particular depth.
Target areas include docks, seawalls, sharp drop offs, mangroves hanging in the water and sharp corners of sea walls or riverbends.
Fish you might expect to tangle with include snook, redfish, trout, sheepshead, jacks, ladyfish and more.
On days that you can fish open water try the deeper grass flat edges with a soft plastic jig for speckled trout. The jig lets you cover more ground faster than a live bait. After you find the trout switch over to live shrimp if you have it.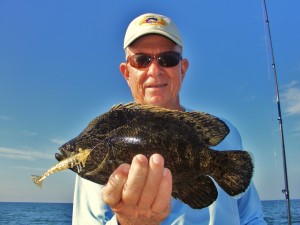 Capt. Billy Miller has been using both techniques depending on the weather and doing well. On one of Miller's trips this week they caught two tripletail in the 10 lb. range.
Miller spotted them floating along with grass in a tideline and both tripletails ate a live shrimp.
Hubbard's Marina reports good sheepshead and black drum action around the John's Pass Bridge and nearby docks. Shrimp and oysters have been the best baits.
The Skyway fishing pier reports good action on mangrove snapper and sheepshead around the pilings. Cut sardines are doing it for the snapper and pieces of shrimp for the sheepshead.
The Homasassa River action has been good around Tiger Tail Bay and Blue Water according to Capt. William Toney. An 1/8 oz. DOA CAL shad tail and green and silver MirrOdine are good artificials and live shrimp the best natural bait in the river. Toney says there have been some snook around Blue Water.
Oops, something went wrong.