This past week I have seen love bugs on my car and also my boat. That means one thing to me. It is tarpon time.
Good early season spots for tarpon in Old Tampa Bay include the Hillsborough River by downtown, along Bayshore Boulevard and the west side Davis Island.
In Upper Tampa Bay look for tarpon in the dredge holes and trenches that run along the Causeway and the Frankland Bridges.
All the bay area bridges should have tarpon. They can be spotted best at night swimming under the lights.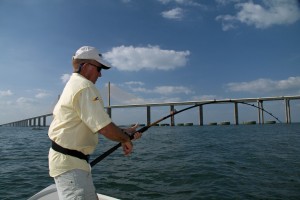 There are tarpon at the Skyway Bridge now reports Brad Whery. Whery and friends were fishing there this week and jumped 3 tarpon catching one of them using live threadfins.
Kingfish slowed up some in some of the popular spots, like the Parking Lot and the ship channel this week. The high winds we had for a couple for days probably moved the kings north or offshore.
Good reports from Boca Grande indicate more kings are to the south and should be moving up our way.
Deep water wrecks and springs still continue to hold lots of big tournament winning kingfish. A 61 pounder won the Suncoast Kingfish Classic and a 58 was second place. In the Wild West Kingfish Tournament and high 50's won with a 50 pounder second.
Flats fishing continues to be on fire. Snook, reds and speckled trout fishing is about as good as it gets.
Oops, something went wrong.