If you can find white bait the snook fishing has been red hot. The most reliable place I have found for bait is the Skyway fishing piers or the bridge itself. The bait is moving around that area depending on the weather and sometimes can be tricky to get.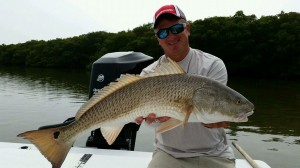 Capt. Billy Miller used white bait to put his party on a great day of fishing including multiple inshore slams of snook, redfish and speckled trout near Lewis Island.
Snook fishing was also good for Capt. Ryan Farner who caught lots of snook, including some big ones over the slot, in the John's Pass area. White bait again was the key.
Tampa Fishing Outfitters reports Weddon Island is the place for snook. Inside the south end of Weedon Island and Christmas Pass are the hot spots with catches of fifty snook a day being very common.
Sheepshead are thick at the south Skyway Pier. Walk along and look down by the pilings for the big schools. One you find them drop small pieces of shrimp or fiddler crabs down to the bottom. Sheepshead are tricky eaters so be sure to jerk just before they bite.
Bottom fishing is still good offshore of St. Pete Beach says Maximo Marina. Capt. Glen Taylor has been racking up the hogfish in 60feet and blackfin tuna in 120'.
Oops, something went wrong.