I'm starting to see signs of  fall in the gulf. A few weeks ago I was seeing mostly Spanish mackerel and ladyfish feeding on small bait. Now the cobia, sharks and jacks have shown up adding a new look.
In our mackerel catches was the first kingfish of the year for me. It was a small one which we released. Look closely because small kingfish can easily be confused with its cousin the Spanish mackerel.
Redfish are still in nice schools around Big Island, Coopers Point, Whiskey Stump, Port Manatee, Tarpon Key and Pinellas Point.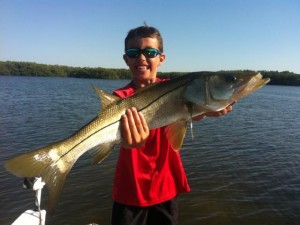 Snook season opens September 1 and runs until November 30  in Gulf and state waters. The minimum size limit is 28 inches and the maxim size limit is 33 inches. Snook should be measured lying on its side with the tail swept back.
Look for snook around passes and along the gulf beaches. Lighted docks are also a good place to find snook this time of year. Weedon Island seems to hold snook all year long.
Good scallop reports are coming in from the Nature Coast after our big rains. The waters have cleared up and the biggest scallops of the year were found in 4 feet of water north of Homosassa channel.
Blue water anglers continue to do well fishing the Loop Current. Reports of blue marlin and sailfish are coming in along with wahoo, dolphin and tuna.
Oops, something went wrong.