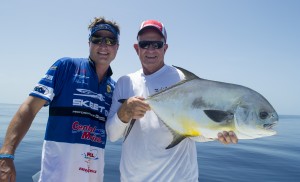 Permit have moved in good to the inshore reefs and wrecks reports Maximo Marina.
These permit are not the smaller inshore version that sometimes can be confused with a pompano.  These are big bruisers in the 20 to 40 pound range.
Heavy tarpon spinning tackle is needed to keep the big permit from cutting you off on the structure. Capt. Harrison Hodges says small blue crabs are the best bait.
Popular permit spots include the tanks around the St. Pete Beach Reef, the Betty Rose, one mile and 3 mile reefs off Anna Maria and the Permit Barge. Most of the GPS coordinates are printed on the newer charts.
Tarpon are spread out more but still can be found in decent numbers. Capt. Billy Miller guided Dave Netzler and friends to four tarpon releases in a half day fishing trip this week along the gulf beaches.
The Redington Pier continues to be a hot spot for land based tarpon anglers using the zip line technique reports Capt. Eddie Herington. Popular baits include threadfin herring, pinfish and pumpkin seeds, all of which can be caught from the pier.
Speckled trout, mackerel and blue fish are hanging on the deep grass flats. Live bait works the best but CAL jigs or white bucktails bounced along the bottom will also catch fish.
Oops, something went wrong.