OutDoors Unlimited Magazine (ODUMagazine.com) is proud to include Captain Bill Miller, the WFN host of "Fishing with Bill Miller" show, 
as an advertising and media partner. In the future, OutDoors Unlimited Magazine will be working with Captain Bill Miller to share his shows and fishing stories with our growing 
readership.  Further, OutDoors Unlimited Magazine's family of fishing andhunting Twitter pages (280,000 followers) will also receive Captain Bill Miller's fishing knowledge
through RSS feeds.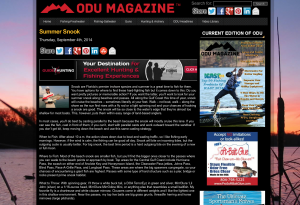 William Schwarz
Editorial and Marketing
ODU Magazine: North America's Largest 100% Digital Fishing Magazine      
Oops, something went wrong.