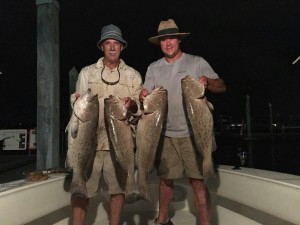 I made a deep water bottom fishing trip this week with Capt. Tommy Butler, Doug Shields, Jimmy Wheeler and friends.
Leaving in the dark, we stopped off St. Pete and filled out live well with frisky pinfish to go along with our frozen Spanish sardines and squid.
As the sun broke we headed west with our first target 50 miles out. We found nice bait schools on swiss cheese bottom and picked up some big red grouper around them.
The current that far out was running so hard that even with 8 ounce sinkers we had a hard time feeling the bottom much less a grouper bite. Butler made a decision to move back into shallower water where the current would not be running as hard. The decision was a good one because we loaded up on big gag grouper and mangrove snapper.
Bill Caldwell fished the Loop Current with Scott Reickert and his crew and found great action. Caldwell reports that dolphin, tuna and wahoo were so thick that the marlin and sailfish had a hard time getting to the baits. Along with all the pelagics caught they did release a nice sailfish and saw some marlin.
Mastry's Bait and Tackle reports good Spanish mackerel and mangrove snapper action anchoring and chumming the Egmont reef. Live white bait is the best bait.
Pompano action has been good off the Rod and Reel Pier and the Skyway piers. Pink and yellow have been the most productive jig colors.
Tarpon are still around reports Capt. Rick Grasset. Grasset and his parties have been catching them on fly along the gulf beaches using the Grasset Tarpon Bunny fly.
Oops, something went wrong.