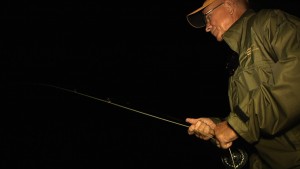 Night time fishing is a good way to beat the summer heat and Tampa Bay offers many opportunities.
Dock lights attract bait fish that attract other fish like speckled trout, redfish, snook, ladyfish and more.
The best baits for night time dock fishing include white bait, live shrimp, DOA shrimp and flies. The smaller baits seem to work best because they match the hatch.
Cast your bait to the outside of the light and let it drift in to the light. Landing baits in the light doesn't look natural and will put the fish down and warn them something is not right.
When fishing around residential docks be quiet, courteous and don't go on any dock for any reason.
Bay area bridges, including the Skyway are loaded with tarpon now. Tarpon swim, or just lay, in the shadows looking into the tide to ambush bait.
Anchoring away from the bridge and drifting a bait to the shadow line works well.
Another very effective position is to hold on, or tie, to the pilings on the up tide side under the bridge. The tarpon swimming the shadow line will be right at under your boat and a bait can be dropped on its nose. Stealth is very important using this technique. Any noise or quick movement will scare off the tarpon.
Top choices for bait include larger greenbacks, pinfish, jumbo shrimp or plastic shrimp immitations. Fly rodders also do well throwing baitfish or shrimp patterns.
Night time shark fishing is also very good in the summer months. Popular spots include all big bridges and bay artificial reefs.
Land based anglers can fish for tarpon and sharks off the Skyway fishing piers.
Oops, something went wrong.