By David A. Brown
With the wind cranking, it's easy to dismiss Capt. Billy Miller's decision to stay close to the Sunshine Skyway Bridge as one of comfort, but nothing could be farther from the truth. For one thing, the waters around this iconic structure spanning the mouth of Tampa Bay are not immune to the ill effects of fall winds, so Miller's quest for the 20th Annual Fall Old Salt King of the Beach crown was no smooth ride.
Of course, if the end justifies the means, then his winning 44.5-pound smoker pretty much sums up the premise for that blustery Nov. 9. However, his team's victory demonstrated several insightful lessons on king mackerel fishing. Capt. Billy was joined by his wife Ashley and his parents Capt. Bill and Debbie Miller. Here's look at the key points from their trip.
Primetime: The big king bit at 7 a.m. Capt. Billy notes that daybreak's transitional period offers a critical window of opportunity when kings get their first good look at breakfast so you'd better be sitting on your top spot with baits in the water. Full moons give predators sufficient light to feed at night, but between these times, daybreak is your best bet.
(Not So) Deep Thoughts: Everyone knows that the big kings commonly stare at freighter keels while traversing the Egmont Channel's main run. However, those shallow edges offer many sweet spots where kings can corral baitfish with less run-away room. The Miller's fish bit in
Current Events: Tide sweeps through the bridges and creates all kinds of aqueous dynamics that position baitfish along rip lines and give hungry kings a predictable feeding lane. Knowing this, the Miller's pulled their baits right along just such a buffet line.
Feed 'Em Right: The winning king ate a big ladyfish. Long, lanky, shiny and slimy – that offers plenty of target to see and smell.
"I've always believed in big baits," Capt. Billy said. "If those really big kingfish are going to use all that energy to go get something, they want it to be worth their while."
Keep It Together: Debbie credited her team's preparation for an efficient effort: "Everybody had a role and we knew exactly what everybody was to do. When it came time, there was no confusion and everybody did what they were supposed to do."
Lady's Touch: When it comes to fighting big kings, Debbie points out that finesse trumps strength any day of the week. She's fought loads of big fish over the past 30-plus years and when it comes to handling kings, she concentrates on keeping the rod tip bent, maintaining a taught – not tight – line and taking up yardage in patient increments. Horsing big kingfish often ends in pulled hooks, so she lets the fish run when it wants to run and reels when he rests.
Of deck stability, Debbie said this: "When it's rough, you try to stay low in the boat and you try to keep your body balanced. And if that doesn't work, you have somebody hold on to you. Ashley was holding the back of the rod belt just in case."
Stick It To 'Em: Theories on gaffing vary, but when the winning fish brought that last death circle to the surface, Capt. Bill stoned him with head shot that turned out the lights and allowed the experienced gaff man to control the business end and haul the fish aboard without any further struggle. That's always important, but space is tight in a 22-foot boat, so the less you wrangle with a big king, the less chance you have of losing it at boatside.
Furthermore, kings will expire shortly after leaving the water, but 44-pounders can do a lot of damage to feet and ankles if they hit the deck green and ticked off – especially when rough seas have the vessel playing see-saw.
Look for more angling instruction on Capt. Bill's "Fishing with Bill Miller" TV show, set to begin airing on World Fishing Network in April, 2014.
For kingfish charters and any other Tampa Bay area fishing adventures, visitCaptainBillyMiller.com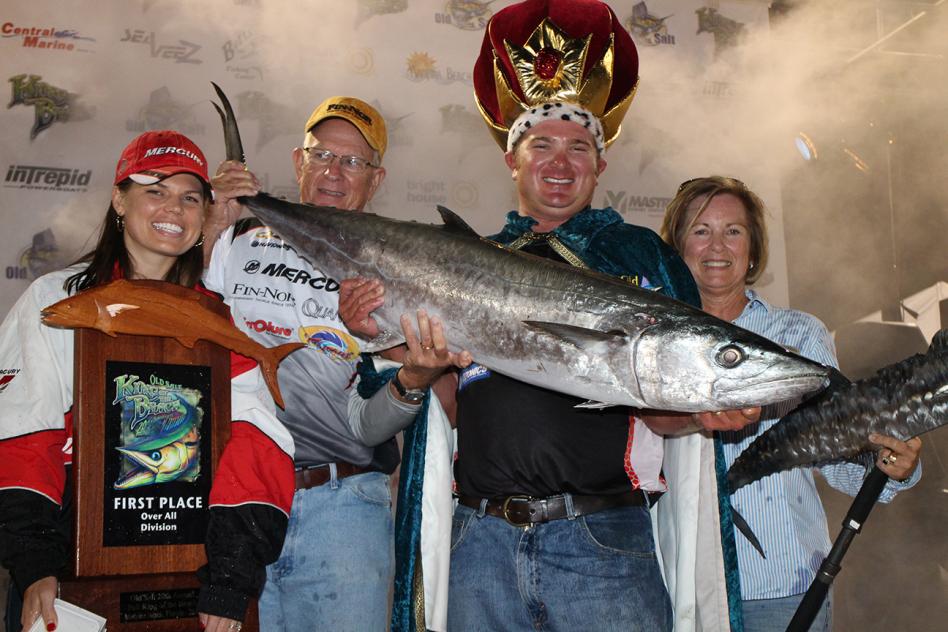 Oops, something went wrong.