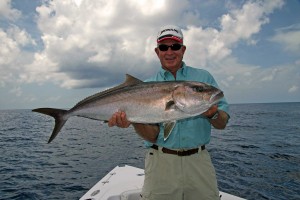 Gulf of Mexico greater amberjack size limit change approved by FWC
The Florida Fish and Wildlife Conservation Commission (FWC) today approved changing the minimum size limit for greater amberjack caught in Gulf of Mexico state waters from 30 inches fork length to 34 inches fork length. Fork length is measured from the tip of the lower jaw to the center of the fork in the tail.
This change will make state-water regulations in the Gulf consistent with pending federal regulation changes and will go into effect after federal regulations are approved.
Recent stock assessments have indicated that greater amberjack in the Gulf of Mexico are overfished, which means there are not enough greater amberjack for the population to remain sustainable. They are also undergoing overfishing, which means more greater amberjack are being removed than is sustainable. Changing the minimum size limit will help ensure more greater amberjack are left in the water and have a chance to reproduce before being harvested.
For more information, visit MyFWC.com/Commission and select "Commission Meetings" then the "Agenda." For information about recreational greater amberjack, visit MyFWC.com/Fishing and click on "Saltwater Fishing," "Recreational Regulations" and "Amberjack."
-30-

Oops, something went wrong.