The recreational harvest of gray triggerfish will close in Gulf state waters Saturday, Feb. 7. The season will remain closed through Dec. 31 and will apply in 2015 only. The Florida Fish and Wildlife Conservation Commission (FWC) discussed gray triggerfish at its February meeting in Jacksonville and received public testimony in support of a state waters closure.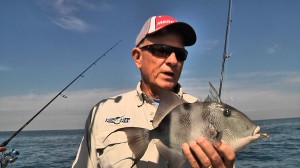 This closure is consistent with a federal closure also starting Feb. 7 and remaining closed through Dec. 31.
Gray triggerfish is considered to be overfished.
The federal season is closing because NOAA Fisheries determined that the annual catch limit was exceeded in both 2013 and 2014. These changes have resulted in shortened federal recreational fishing seasons and fewer harvest opportunities for Florida fishermen. The state waters closure is intended to help curb future closures and rebuild the stock.
To learn more about the federal closure, visit http://sero.nmfs.noaa.gov/ and click on "Fishery Bulletins," "Current Fishery Bulletins" and "Gulf of Mexico Recreational Gray Triggerfish Federal Fishing Season to Close."
To learn more about gray triggerfish, visit MyFWC.com/Fishing and click on "Saltwater," "Recreational Regulations" and "Triggerfish."
Oops, something went wrong.