Sailfish made an appearance this week reports Maximo Marina.
Art Hysop and Joey Burgess were bottom fishing for hogfish 20 miles out and decided to put out a top line with a white bait on it. Shortly after being deployed the white bait was eaten by a 30 pound kingfish. Another white bait went out and a sailfish ate that. After photos the sail was released. Burgess also caught a blackfin tuna.
I saw Brian Swann catch a sailfish in 30 feet of water off St. Pete Beach. Swann was slow trolling a white bait in the kingfish fleet when the sail hit. After a 15 minute battle and 10 jumps the sail was released.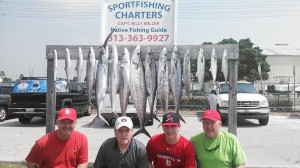 Kingfishing has been steady around markers 5 and 6 in the Egmont ship channel. Bait can be caught around the markers and put right back out. Trolling or drifting live bait has been successful.
Capt. Billy Miller guided Bud Taylor and family kingfishing this week off Passa Grille and loaded the boat. Their limit kingfish catch included a 30 pound king caught by Mindy Taylor and lots of jumbo Spanish mackerel..
The Weedon Island area continues to be on fire. Captains Chris Wiggins and Brett Norris have been catching up to 50 snook in a half day trip. Big redfish and speckled trout were also landed.
Capt. Scott More has been catching some whopper snook. While fishing in Charlotte Harbor Moore and his parties have been catching lots of snook over 30 inches and some over 40 inches. Big white bait is the key for big snook.
Oops, something went wrong.