Go Fish for 11/22/15 by Capt. Bill Miller
Capt. Billy Miller reports good mixed bag fishing. Miller guided Brian Gray to a nice catch of triple tail, snook, reds and trout on a half day morning trip. Mackerel and kings are also available to add to the catch if he winds are not up.
Triple tail reports are coming in from anglers working the crab trap lines. Small white bait, live shrimp or DOA shrimp are the top baits.
Good gag grouper catches have been made offshore in 80 feet and inshore around the Skyway reefs and channel edge rock piles as anglers try to beat the December 3 closing.
The warm temperatures have sparked great snook catches along the south shore a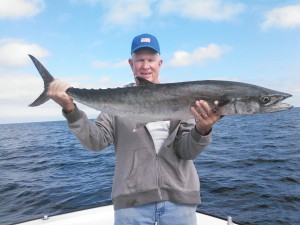 nd Lewis Island. Snook are responding well to chum and feeding heavily on the moving tides. Weedon Island has also been hot for snook.
Spanish mackerel and kingfish have been consistent in the Egmont ship channel says Larry Mastry. Mastry likes to jiggle cigar minnows and Spanish sardines around the channel markers and fish where the bait is the thickest.
Oops, something went wrong.