Capt. Chase McBride led team WTF to first place in the "1st Annual "Bitch of the Ditch" kingfish tournament. Fishing in windy conditions McBride and his crew landed a 41.90 pound kingfish fishing in the Egmont Hole.
Team Old School Intrepid landed a 32.50 pound kingfish to finish in second place. Tom Swick, Paul Fleming and crew were also fishing the Egmont ship channel, aka "The Ditch".
Other nice catches were made including Capt. Chris Turner and John Luten on the "Shakari" with a 27.10 king and Brad Whery fishing on the "Lucky Strike" with a 20.80 pound kingfish.
Mangrove snapper are on fire at the Skyway fishing piers. White bait and greenbacks used to be the best bait but as the water temperatures drop the best catches will be made by anglers using live or fresh frozen shrimp. Fish the bottom by the pilings for best results.
Shark fishing is good off the Skyway piers and also the Apollo Beach power plant. Fresh shrimp or fresh cut mullet are good small shark baits. Try a whole jack crevalle or bonito for the big sharks.
#smokerkings, #mercurymarine, #egmonthole, #saltlifesportoptics, #finnor, #biminibay, #bitchoftheditch, #avengerboats, #luckystrike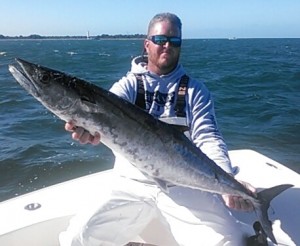 Oops, something went wrong.