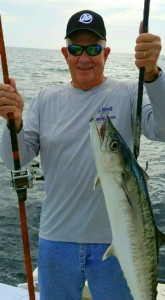 King fishing has been really good, with easy limits, so on a trip this week I decided to have some fun by challenging my tackle and angling ability.
I took on our trip a 1942 Shakespeare Service reel, Model FA, spooled with 12 pound mono and wrapped on a varnished 9 foot Burma cane rod with 4 bell guides and a tip. This "knuckle buster" reel has no drag other than an attached leather thumb pad and is direct drive, meaning when line goes out the handle spins backwards.
After catching a king or two on our conventional kingfish tackle I went "old school" and broke out the antique tackle. Using a freshly caught Spanish sardine on a stinger rig I quickly hooked a nice king that smoked out my light line.
Trying to figure out how much drag to put on the thumb pad with my left hand, I forgot the move my right hand away from the spinning handle and my knuckles got severely whacked.
Despite my inexperience with this old tackle I was able to land a 12 pound king and my crew and I laughed while celebrating our accomplishment.
You might not have and old rod and reel like the one I was using, but don't be afraid to try lighter tackle than you are used to. It will make you a better angler and increase your enjoyment.
Capt. Eddie Caldwell reports good white bait on the Hula Bay flats and hungry snook at Weedon Island.
When the cold fronts come through and drop the water temperature go to the power plant outflows and rivers and creeks for your best action. The warmer, deeper water will attract all kinds of fish.
#oldschoolfishing, #mercurymarine, #antiquefishingtackle, #saltlifeoptics, #softscienceshoes,#maximomarina
Oops, something went wrong.