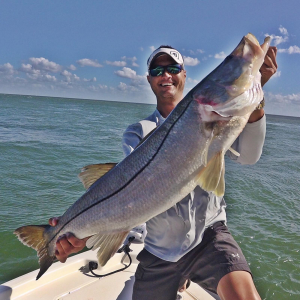 High winds have kept us closer to shore in protected areas this week, but the fishing has been good.
Venturing 2 to 3 miles off St. Pete Beach we have filled the box with big Spanish mackerel and a few kings. Big schools of threadfin herring, large scaled sardines and Atlantic bumpers are right in on the beach which has drawn the mackerel close.
I cast net, or gold hook, the bait and slow troll around the bait schools. The bait is big so a stinger hook will increase your hook up ratio.
Before the strong winds good reports of shallow water grouper were coming in. Bill Caldwell has had some great grouper catches fishing ledges 5 to 6 miles south of the Egmont ship channel.
Hogfish action is also starting to pick up in 25 to 60 feet for anglers bottom fishing with a knocker rig and live shrimp.
Capt. Ryan Farner and crew caught and released a 47 inch snook that weighed an estimated 29 pounds using a big grass grunt for bait. Farner was fishing heavy structure around Pinellas Point when the big one hit. Snook season closes December 1.
Sarasota Bay anglers are having good light tackle and fly action with Capt. Rick Grasset. Grasset reports Spanish mackerel, false albacore and triple tail are being taken on flies in shallow gulf waters and snook, reds and  bluefish area active inside of Sarasota Bay on top waters and soft plastics.
#sloblinesider, #mercurymarine, #biminibayoutfitters, #saltlifesportoptics, #smokerkings, #avengerboats, #softscienceshoes, #bassproshops, #hogfish, #st.petebeach
Oops, something went wrong.