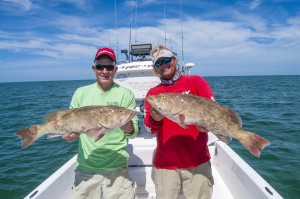 Gag grouper season opens July 1 and anglers are getting ready for trips to deep water to search for gags. Although the biggest concentrations of gags will be in depths of 80 feet and out, there are plenty of gags in and around Tampa Bay.
Look for bay gags along the edge of the ship channel leading into the bay and into our Tampa Bay ports. Trolling a big silver spoon, a 6-8 inch plug or a 4 ounce jig with a soft plastic curly tail behind a number 3 planer or on a downrigger along the channel edges should result in some good catches.
The rock outcroppings around the main Skyway span has some big gags on it. 50 pound class tackle and live pinfish or threadfin fished on the bottom is what you need to haul them away from the rocks.
Deep water ledges is where you find offshore gags. Frozen Spanish sardines, threadfins and squid are good dead baits to start with. Live bait like pinfish, squirrel fish, cigar minnows can be gold hooked on your way offshore and are sure to draw aggressive strikes.
Offshore trolling is starting to heat up for anglers fishing the Loop Current and deep water bottom contour lines. Sailfish, mahi, wahoo and blue marlin are top targets during our summer months.
Rigged ballyhoo, mullet and mackerel are top natural baits. Artificial lures also work well and take away the aggravation of getting and rigging the naturals.
Tarpon are thick at the Skyway. The silver kings have been fond of  live threadfins free lined around the main span bumpers recently.
Look for permit on close in artificial reefs and wrecks inside of 60 feet. Live silver dollar crabs are the best bait by far.
Oops, something went wrong.