The fishing is about as good as it gets right now, inshore or offshore. If you were waiting for the right time to go fishing, that time is now. Get off the couch and get out there.
Capt. Ryan Farner says the redfish and snook are eating the bottom of the boat out in the Ft. Desoto area on white bait. On slack tide the bite slows down but when the tide starts moving everything starts feeding.
Weedon Island continues to be good even with increased boat traffic. Capt. Chuck Rodgers has been tearing up the snook on a daily basis with limits of redfish adding to the action.
Maximo Marina reports that Wes Crowell had a big day on smoker kings off St. Pete Beach. Crowell and friends slow trolled big threadfin herring for their catches.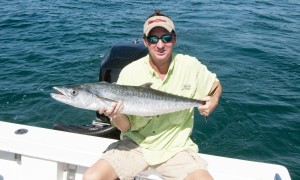 Great kingfish action has also continued in the Egmont ship channel. Anglers slow trolling, or drifting live baits near the buoys have been having a good time with lots of school size kings. Trolling spoons has also been successful.
Offshore wrecks have been to go to spots for Capt. Glen Taylor. Taylor and son Noah have been having fun with catch and release permit action using small crabs. Changing tactics and chumming with live white baits and chunked threadfins brought swarms of blackfin tuna to the spring break fishing party.
Sarasota Bay is yielding Spanish mackerel, speckled trout, bluefish, pompano and flounder on the deep grass flats near the passes.
Oops, something went wrong.