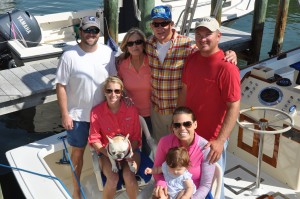 The summer months, when the kids are out of school, is the time for what I call "Family Fun Fishing".
Family fun fishing is really nothing more than action. Kids like action and with action comes positive fishing experiences that start a love for fishing.
When my kids were barely able to get on the boat I started them out with short trips for catching pinfish. They had fun and I had someone catching bait for me.
Don't make the trips to long in the early years. As they get older you can lengthen the trips and if the kids want to play in the bait well, let them. The key is having fun and building good memories of being on the boat.
For good summer action try fishing the deep grass beds. Anchor on the deep grass and put out a frozen chum block. White bait is the best bait, if you can get it, but live shrimp work well also. Put some baits out under corks and free line some to see where the action is.
What you can expect to catch using this technique is speckled trout, Spanish mackerel, mangrove snapper, sharks, ladyfish, jack crevalle and lots of other stuff.
Maximo Marina reports good gag grouper action from anglers fishing the deep gulf waters and the Skyway Bridge. Skyway fishing pier anglers are also scoring with nice keeper gags free lining live pinfish and grunts back to the artificial reefs that line each fishing pier.
Tampa Bay tarpon fishing is going strong. Look for tarpon from the Skyway Bridge all the way up to downtown Tampa. Good tarpon sightings are being reported along Bayshore, Davis Islands and Apollo Beach.
Night time tarpon fisherman are having fun fishing the bay area bridge lights.
Oops, something went wrong.