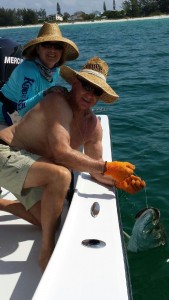 Redfish are gathering in big schools as they do each fall. Incoming high tide bring them close to the mangrove shore lines. As the tides drop out the redfish schools will move away from the shore lines to deeper water. The deeper water may be the edge of the flats as it drops off or deeper pot holes or sloughs on the flat.
Live white bait is the most popular bait. A few crippled baits tossed in the direction of the redfish schools will fire off the bite and keep them close to your boat.
Stealth is most important fishing reds on the flats. Approach the schools by drifting or poling. Electric motors will work but use only the lowest power possible. Loud noises like splashing anchors or hatches slamming will send the redfish running for cover.
The 82nd Suncoast Tarpon Roundup, which runs for ten weeks, just concluded. Congratulations to Noah Epstein who won Finale Day with two releases and Steven Corns who won Junior Finale Day with one release. Both anglers were fishing from the Redington Pier.
Debbie Miller won the Overall Division and the Ladies Division with a record setting 71 releases.
The Skyway fishing piers report great shark action. Light tackle anglers using cut bait and light wire leaders are catching plenty of blacktip, sharp nose and bonnet head sharks.
Several bull sharks over 8 feet were caught this week by fishermen using large bonitos or cow nose rays for bait. Heavy tackle is a must for these bruisers.
Oops, something went wrong.