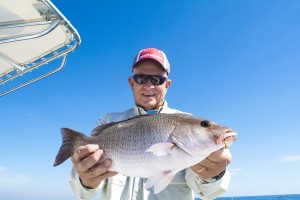 Mangrove snapper are the go to fish for anglers these days. There are plenty of them around now and they are fairly easy to find and catch.
Most Tampa Bay structure has ton of mangrove snapper on them now. All of the charted artificial reefs are loaded and great places to start.
Most of the guides fishing the Gandy and Frankland bridges report the bridge pilings are thick with snapper. The Skyway Bridge is also a well known snapper hot spot.
Docks and sea walls, especially those with rip rap around them, are great hiding places for mangrove snapper.
Live shrimp, or fresh frozen shrimp, are easy baits to get and snapper love them. Live, or fresh dead, greenbacks and white bait are a little harder to get but the effort to catch them is worth it. A piece of these baits on a 1/0 circle hook, fished around the structure is a great way to fill your limit.

Redfish are schooling on the Ft. Desoto flats and around Pinellas Pont. Live white bait or fresh cut pinfish and ladyfish are popular baits. Cast your baits around the edges of the schools in the direction they are going for best results.
Spanish mackerel are biting well around the mouth of Tampa Bay. Anchoring around artificial reefs or big range markers and chumming with small pieces of greenbacks will usually bring the macs to your boat. Light spinning gear with 20 or 30 pound flouro carbon leaders and a long shank hook is what you need for the mackerel.
Oops, something went wrong.