This recent spell of windy weather will change things around offshore. Kingfish will move north and offshore and bottom fish, like snapper and grouper, will move to high structure.
When the winds die down look for kingfish first around artificial reefs with clean water and bait. Look for bottom fish around wrecks and high, rocky ledges. Later as the water gets back to normal the flat, swiss cheese bottom will be productive again.
Inshore fish will go to clean water. Not all water got muddied up this week. Weedon Island is still hot for snook and Ft. Desoto continues to be a good redfish spot. For reds look around Tarpon Key and Scratch Key.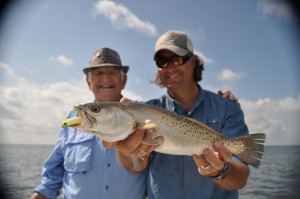 Capt. William Toney reports that redfish were loving gold spoons in the Chassahowitzka Wildlife Refuge. Toney also said good catches of speckled trout were coming in from the flats south of the Homosassa River. Use the DOA Deadly Combination or root beer colored 'Lil Johns.
The spring kingfish season is probably winding down but Spanish mackerel should be here all summer long over the deep grass flats and reef areas.
May traditionally is the start of tarpon season around Tampa Bay with June and July being the peak. Look for the silver kings to be here until early fall.
Oops, something went wrong.