Grouper Jigging
JIGGING GRABS GREAT GROUPER ACTION
By DAVID A. BROWN
When Capt. Randy Rochelle heads into the Gulf of Mexico, the jig is up for grouper. Actually, the real productivity occurs when the jig is down, and Capt. Randy has refined this routine to edgy precision.
Armed with 7-foot, heavy-action rods with 4/0 class reels carrying 50- or 80-pound line, Capt. Randy fishes 8-ounce Mission Fishin jig heads with pink, chartreuse or glow curly tails. He sweetens the rig with a squid body (tentacles removed).
Starting at a range of about 15 miles, Capt. Randy targets "Swiss cheese" bottom, which is simply limestone rock formations with frequent sandy holes that give the appearance of a submerged dairy product. Grouper take up residence in these holes and generally respond aggressively when a jig comes bouncing by their dwelling. Upon arriving at one of his spots, Capt. Randy idles across the structure until he spots a show of fish on his bottom machine. He then circles backto drift the spot.
Capt. Randy advises dropping the jig/bait to the bottom and letting the boat's drift move it along the structure. As the lure hops and drops into and out of the cheese holes, its bucktail skirt dances and pulsates to give the illusion of a living creature. Couple that with the scent of the squid trailer and you have an irresistible grouper grabber.
Although drifting maximizes the fishing effort by covering more area,there are times when a hot spot with a huge show of fish might merit anchoring. In this scenario, you can either work the jig with occasional hops, or set the rod in a gunwale holder and let the boat's rocking do the work for you. (When anglers go with the manual option, it's wise to have at least one more rod in a holder to maximize your effort.)
Swiss cheese bottom also attracts swarms of mangrove, lane and vermilion snapper. Keepers are a tasty bonus to the grouper routine, but mostare undersized bait stealers that often chew the tails off jigs. This is Capt. Randy's signal to move to another spot.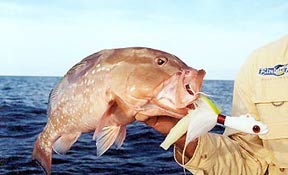 This healthy red grouper couldn't resist the tempting bucktail dropped to the bottom
"I don't give spots more than about 5-10 minutes before moving," he said. "If the grouper are here, they usually bite right away."Often joining Capt. Randy is Vance Tice, owner of Tight Lines Tackle in Tampa and founder of Bubba Jigs. Although specializing in Tampa Baytrolling, Vance is equally adept at offshore jigging. Very often, he said, jigs will outperform live bait and the fish you get are generally quality size.
Vance figures the size of a jig and bait combination weeds out the little guys and appeals to grouper worth keeping.
" It's a big, impressive bait and I think it intimidates the smaller fish," Vance said. "On days when other guys are catching a lot of shorts [undersized grouper], I'd prefer to use the jig and get fewer strikes, but catch more keepers."
Certainly not a fancy or intricate rig, the jig and bait is nonetheless effective. So, the next time you head offshore for a round of bottom fishing, take a lesson from Capt. Randy and drop deep to grab a slice of the Swiss cheese action.
For grouper charters, contact Capt. Randy Rochelle at (727) 365-3218 or (727) 528-1213. For grouper gear, stop by Tight Lines Tackle. Phone: (813) 932-4721